Study of Social-Ecological Systems and Climate-Related Disasters in the Indian Sundarbans
Keywords:
disasters, region, social-ecological system, climate, natural resources
Abstract
The interactions or connections between an area's social system and ecological system are referred to as the "socio-ecological system" (SES). The Indian Sundarbans, which can be viewed as an integrated SES, are home to more than 5 million people and are rich in wildlife. The current study examines the aforementioned SES at the microlevel. In order to perform a primary survey using an appropriate questionnaire, four villages from two blocks of the Indian Sundarbans—Madhya Gurguria, Debipur, Satjelia, and Rangabelia—were chosen. The study's findings indicate that the region is heavily dependent on its cattle, fishing, and agricultural resources. In the village economy, relying on numerous resources to generate revenue is the norm. However, this in turn is putting further strain on the already limited resource base. In order to analyse resource usage and flow at the microlevel in the Indian Sundarbans, the article does so. In order to secure the sustainability of both resources and the way of life of those who live in the SES of the Indian Sundarbans, the present study makes the case for the need of a strong framework that supports the inclusive and participatory participation of all stakeholders in resource management.
References
Holling, C S, & L H Gunderson. (2002). Resilience and adaptive cycles. Panarchy: Understanding Transformations in Human and Natural Systems. pp. 25-62.
Berkes, F, J Colding, & C Folke. (2003). Navigating social-ecological systems: Building resilience for complexity and change. New York: Cambridge University Press.
Mitra, I. (2006). A renewable island life: electricity from renewables on small islands. Refocus, 7(6), 38-41.
Sarkar, S, & R N Padaria. (2011). Understanding indigenous knowledge system in coastal ecosystem of west Bengal. Journal of Community Mobilization and Sustainable Development, 6(1), 019-024.
Das, S K, & H Tripathi. (2012). Life in Sundarbans: A participatory rural appraisal. New Delhi: Mittal Publications.
Jalais, A. (2014). Forest of tigers: People, politics and environment in the Sundarbans. New Delhi: Routledge India.
Mukhopadhyay, R, & S B Roy. (2015). Traditional knowledge for biodiversity conservation, maintain ecosystem services and livelihood security in the context of climate change: Case studies from west Bengal, India. Journal of Biodiversity, 6(1-2), 22-29.
DasGupta, R, & R Shaw. (2015). An indicator based approach to assess coastal communities' resilience against climate related disasters in Indian Sundarbans. Journal of Coastal Conservation, 19(1), 85-101.
Bhadra, T, S Das, S Hazra, & B C Barman. (2018). Assessing the demand, availability and accessibility of potable water in Indian Sundarbans biosphere reserve area. International Journal of Recent Scientific Research, 9(3).
Colding, J, & S Barthel. (2019). Exploring the social-ecological systems discourse 20 years later. Ecology and Society, 24(1), 2.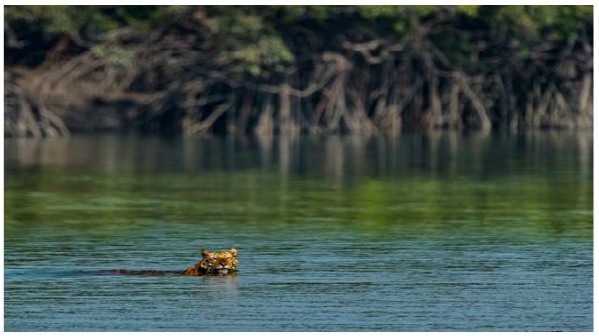 Downloads
How to Cite
Shivam Ojha. (2023). Study of Social-Ecological Systems and Climate-Related Disasters in the Indian Sundarbans. Applied Science and Biotechnology Journal for Advanced Research, 2(1), 8–13. https://doi.org/10.31033/abjar.2.1.2
License
Copyright (c) 2023 Shivam Ojha
This work is licensed under a Creative Commons Attribution 4.0 International License.