Farm Technology and Socio Economic Causes for Rural to Urban Migration in India
Keywords:
farm, technology, rural india
Abstract
The act of accepting a village for some goal, such as development as in this situation, is known as "village adoption." At several levels in our nation, there are numerous village adoption initiatives being carried out. However, simply adopting them won't be enough to build more than 6 lakh communities in India. Therefore, we must improve village adoption programmes in order to implement a model village approach, as village adoption must be seen as a key step in achieving this. The Model Village and Village Adoption Programmes are sometimes confused with one another, albeit they are not.  This study makes an effort to evaluate these two strategies and offers special examples that illustrate the extent and potential of the Model village idea. With this innovative strategy, our nation's progress is anticipated to accelerate.
References
Goutham, H.R. (2012). Can we check migration from rural areas. Kurukshetra, LX, 6- 10.
http://agritech.tnau.ac.in/seed_certification /seed_tech_Seed%20Village.html.
Jabir, H.K. (2011). Socio economic causes for rural to urban migration in India, ISAPS, III(2), 138-158.
Negi, V.S. (2014). Where has all small farmers gone, focus on global south India, New Delhi.
Tiwari, J.C. (2010). Village adoption for farm technology management: A success story. Available at: http://www,csauk.ac.in/village adoption/.
http://articles.timesofindia.indiatimes.com/ model-villages/featured/3 (2010).
www.censusindia.gov.in.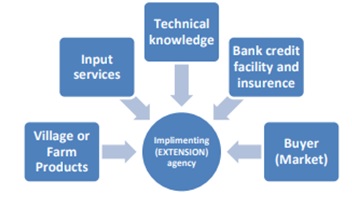 Downloads
How to Cite
Anand Kumar Meena. (2023). Farm Technology and Socio Economic Causes for Rural to Urban Migration in India. Applied Science and Biotechnology Journal for Advanced Research, 2(4), 9–12. https://doi.org/10.31033/abjar.2.4.3
License
Copyright (c) 2023 Anand Kumar Meena
This work is licensed under a Creative Commons Attribution 4.0 International License.