Study of Covid-19 Pandemic's Effect on the Mental Health of Migrant Workers
Keywords:
Anxiety, COVID-19 Pandemic, Corona Virus, Migrant Workers, Mental Health
Abstract
The COVID-19 epidemic has significantly changed social and professional settings in a number of ways. Social distancing laws, mandatory lockdowns, isolation periods, fear of getting sick, suspension of productive activities, loss of pay, and anxiety about the future all have an impact on residents' and employees' mental health. Pre-existing psychological morbidities, high prevalence of pre-existing physical health morbidities like respiratory disease, tuberculosis, and HIV infections, adverse psychosocial factors like lack of family support and caretaker throughout the crisis, and their limitations to follow the principles and rules of Anxiety, depression, PTSD, and sleep disorders are among the mental issues linked to the health crisis that are more likely to affect healthcare workers, particularly those on the front lines, migrant workers, and workers who interact with the general public. This occupational group is made even more prone to the occurrence of psychiatric illnesses by the blow of economic limitations brought on by labor shortages, the lack or suspension of activity safety and health-related basic regulations with associated activity dangers, and other factors. This review establishes the framework for a deeper comprehension of the psychological situations of workers during the pandemic, integrating individual and social perspectives and offering insight into doable individual, social, and activity approaches to the current "psychological pandemic."
Downloads
Download data is not yet available.
References
Gao J., Zheng P., Jia Y., Chen H., Mao Y., & Chen S. (2020). Mental health problems and social media exposure during COVID-19 outbreak. PLoS One, 15, e0231924.
Mucci N., Traversini V., Giorgi G., Tommasi E., De Sio S., & Arcangeli G. (2019). Migrant workers and psychological health: A systematic review. Sustainability, 12(1), 120.
Government of India, Ministry of Health and Family Welfare. (2020). Psychosocial issues among migrants during COVID-19.
Ho C.S., Chee C.Y., & Ho R.C. (2020). Mental health strategies to combat the psychological impact of covid-19 beyond paranoia and panic. Annals of the Academy of Medicine, Singapore, 49(3), 155–160.
Garfin D.R., Silver R.C., & Holman E.A. (2020). The novel corona virus (COVID-2019) outbreak: Amplification of public health consequences by media exposure. Health Psychol., 39, 355–357. doi: 10.1037/hea0000875.
Li J., & Rose N. (2017). Urban social exclusion and mental health of China's rural-urban migrants-A review and call for research. Health & Place, 48, 20–30.
Li X., Stanton B., Fang X., Xiong Q., Yu S., Lin D., Hong Y., Zhang L., Chen X., & Wang B. (2009). Mental health symptoms among rural-to-urban migrants in China: A comparison with their urban and rural counterparts. World Health Popul, 11(1), 24–38.
Hevia C., & Neumeyer A. (2020). A conceptual framework for analyzing the economic impact of COVID-19 and its policy implications. Available at: http://www.latinamerica.undp.org.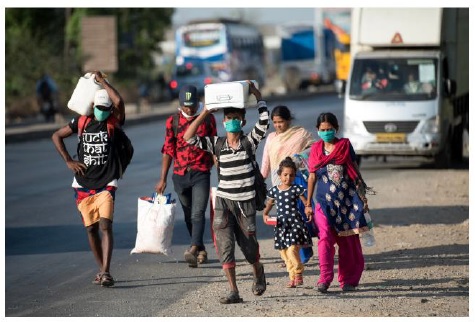 Downloads
How to Cite
Akshat Tripathi, & Pulkit Verma. (2023). Study of Covid-19 Pandemic's Effect on the Mental Health of Migrant Workers. Applied Science and Biotechnology Journal for Advanced Research, 2(5), 1–4. https://doi.org/10.31033/abjar.2.5.1
License
Copyright (c) 2023 Akshat Tripathi, Pulkit Verma
This work is licensed under a Creative Commons Attribution 4.0 International License.